Repeat Business Systems Donates Computers for WERC's Computer Loaner Program
Apr 21, 2021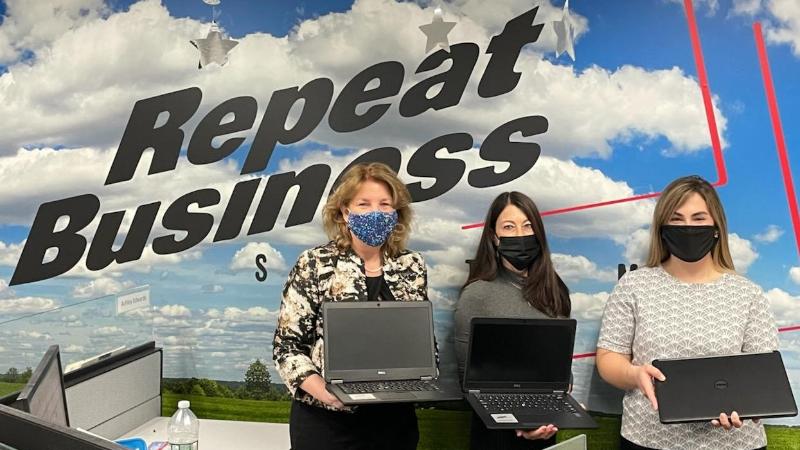 Identifying an urgent need, WERC has launched a Computer Loaner Program for qualified WERC students. This has been done with the help of long-time WERC supporter and friend, Dawn Abbuhl, co-founder and President of Repeat Business Systems. Ms. Abbuhl recently presented a generous donation of five new laptop computers to WERC s Executive Director, Elizabeth Miller Guthier, and WERC's Board Member and Program Committee Volunteer, Amanda Goyer who is the Corporate Responsibility Officer at KeyBank.
Since the Pandemic hit, WERC has assisted Displaced Homemakers in need of employment over the phone, via e-mail and Zoom. Realizing that the Pandemic was greater than imagined, WERC pivoted to an entirely virtual environment, providing on-line computer training through KnowledgeWave® and teaching career readiness and job search workshops via Zoom.
WERC has found that 20% of the women in need of finding employment do not have a computer, nor access to a computer and WiFi. With the libraries and other training centers still not open, the need was apparent and the computer donations have allowed a vital program to be born.
With the help of volunteers, the WERC Board of Directors commissioned a new program committee to develop a Computer Loaner Program to meet the needs of its students and graduates. Computer access is critical not only for skill development but also for job searching.
"Despite the challenges of the Pandemic, this new program will allow WERC to continue to serve our women and fulfill our mission. Our training can be conducted virtually if students have computers. Computer access is also essential for all aspects of the job search process, including developing a LinkedIn profile and conducting interviews via video conference platforms. We are pleased and thankful to be able to give our students the tools they need to succeed" says WERC Executive Director, Elizabeth Miller Guthier.
One WERC student is already taking advantage of this program. Patty contacted WERC in 2020 because she had lost "her" job and needed to find a new position quickly. WERC helped her find the job that would meet her needs and helped her find the confidence to move forward in "a" positive direction.
"You truly inspired me and reignited the flame I needed to pursue the job of my dreams. I think I have finally found it! At a time in my life when I began to feel defeated because of my circumstances, you were pivotal in lifting me up and helping me realize my potential once again. Your support, wisdom and advice carried me across the finish line. I am indebted to you." Patty
WERC was also able to address her lack of a computer that would help further her career aspirations. Patty is the first person to participate in the Computer Loaner Program and has taken possession of one of the new donated laptops loaded with relevant software such as Microsoft Office. Having the computer will allow her to take on-line training to increase and hone her computer skills as well as search for new opportunities. WERC students, like Patty, may use a loaner computer for up to one year.
There are specific requirements for participation in the WERC Computer Loan Program. For more information about this program and other services, contact WERC's Executive Director, Elizabeth Miller Guthier by phone at (518) 225-3131 or by e-mail at bmiller@cdwerc.org.