Help Us Continue Our Mission to Make a Difference!
Dec 2, 2021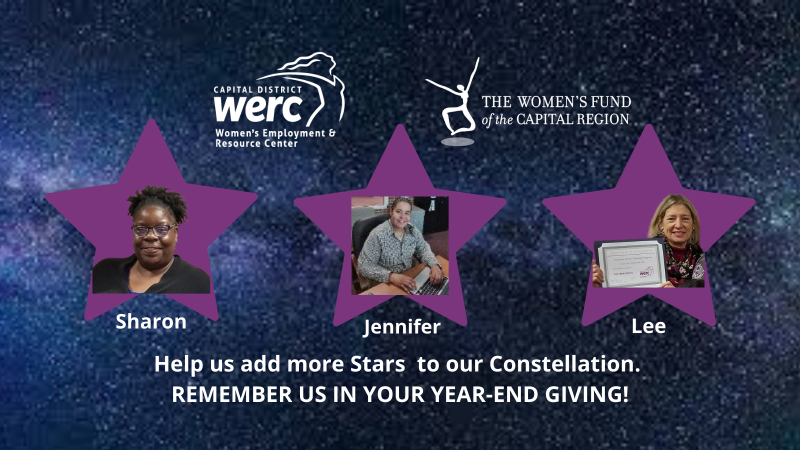 As 2021 comes to a close, we are so thankful for all the support our generous sponsors have given to WERC and The Women's Fund of the Capital Region. This support has enabled us to help women like Sharon, Jennifer and Lee reach for the stars. Their stories demonstrate the profound impact that the WERC Program and The Women's Fund Scholarship Fund have made on their lives.
Sharon – WERC Graduate
Sharon has a bachelor's degree in Business Management and a master's degree in Public Affairs. She moved back to the Albany area after getting divorced in 2017. She enrolled in the WERC program and found a job as a Medicaid Employment Specialist. That job ended in 2019 and Sharon realized that it was not really what she wanted to be doing. She went back the WERC program for assistance with her job search in September 2019.
In the WERC training programs, Sharon improved her proficiency in Microsoft Word and developed skills in writing her resume and cover letters. More importantly, she really appreciated working with Marj, who helped her clarify what kind of job she would find fulfilling and then focus on looking for that type of job.
Sharon found work in October 2019 as a Medical Support Assistant at the Albany Stratton VA Medical Center and has been employed there since. She likes the job very much, received a raise after her three-month performance review and has won two appreciation awards. She enjoys meeting with the veterans who come to the center and collaborating with other professionals on the staff to get the best services for them.
"The WERC program not only helped improve my job skills. It gave me the confidence to put myself out there and pursue my goals."
Jennifer – The Women's Fund of Capital Region Scholarship Recipient
Jennifer returned to college in her mid-forties but was worried about her abilities to achieve her dreams. She also worried about finances and wondered if she had to take a second or even third job but The Women's Fund scholarship helped her to pursue a degree that will lead to a career dedicated to service.
Jennifer has achieved more than she dreamed possible. She has been inducted into the Phi Theta Kappa Honor Society, maintains a 3.9 GPA, elected as President of the Student Government Association, and received the Student of the Year Award. She attributes much of her success to the support and generosity of The Women's Fund through the scholarship. Our goal is to keep hearing more of these phenomenal success stories!
"With the support of The Women's Fund, I have been able to focus on my studies and not be concerned about whether or not I could afford it. The Women's Fund scholarships are having an amazing impact on the lives of women like me."
Lee – WERC Graduate
Lee's husband passed away six years ago. Until then, she had been working sporadically and was busy with activities related to their son, who had just started high school. She had a degree in architecture and decades of experience but did not have her license. At age 55, she focused on studying for the exam and got her architect's license. Lee was working as a sole proprietor but needed to make more money to support herself and her son. She wanted to re-enter the workforce as an employee for an architectural firm but had lost confidence in herself. She was nervous about competing with younger people who had more up-to-date computer skills. Another single parent from similar circumstances encouraged her to enroll in WERC's programs.
After attending the WERC training programs in resume writing and computer skills in early 2020, Lee's confidence in her experience and skill set improved. She began to pursue employment with architectural firms. She was very close to receiving an offer when the COVID-19 pandemic began, and firms were no longer hiring. In the months that followed, a lot of people opted to move out of NY City and the need for residential architects in upstate NY increased. In July 2020, Lee returned to work as an independent firm and her business has done well.
"I am grateful to the WERC staff, who emphasized that skills I developed as a parent are also useful in the workforce. I can apply what I learned in the WERC classes to my business. The WERC program not only sharpened my skills but sharpened my confidence."
This is just a small sampling of the women recently helped by WERC and The Women's Fund of the Capital Region.
Please consider making a year-end donation so we can add another Star to our Constellation and light up our community!
Help a WERC Student and/or a Women's Fund Scholarship Recipient. Here are a few examples of how your donation will help women in transition:
$1500 – One women receives ALL career readiness, computer training and job search services provided by WERC until they secure EMPLOYMENT. She also receives a lifetime of networking and support services from WERC.
$625 – Supports one The Women's Fund part-time student scholarship for one semester.
$500 – Networking and business card class including printed business cards with professional card holder.
$250 – Resume and cover letter workshop including completed resume packet and flash drive.
$150 – Money for The Women's Fund Emergency Fund to help students with unexpected financial needs.
$100 – Computer class for a woman transitioning back into the workforce.

100% of funds will help support women in the Capital District in 2022!
Please select the funds you would like your donation to support.