Challenges of Reentering the Workforce: a WERC Graduate's Story
Jan 5, 2022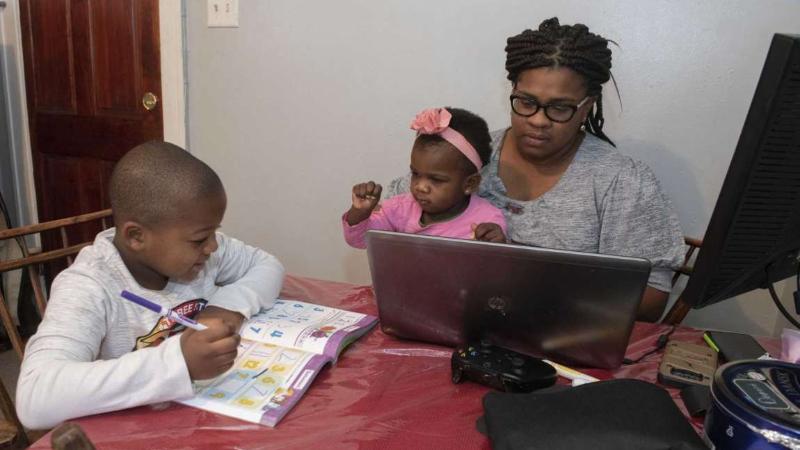 Photo: Damaris with her daughter and son as she works from her home on Wednesday, Dec. 29, 2021
Photo credit: Lori Van Buren/Times Union
On January 2nd, WERC Graduate Damaris Skelton's story was featured on the front page of the Sunday Times Union's Business Section. The article, by reporter Shayla Colon, details Damaris' challenges of finding work and then juggling child care and working at home in the age of COVID. She is just one of hundreds of thousands of women in the US now faced with this reality. She returned to work in 2021 to support her two young children and for her own fulfillment. " 'I just felt like I needed to get back out there to even just get my own sense of self and my own purpose on top of being a mom,' she said. 'I like to work.' "
Damaris is currently employed by WERC's long-time partner MicroKnowledge, Inc., a local company that provides technology and software training services. MicroKnowledge has supported her every step of the way through her transition back into the workforce.
The reporter also spoke to Elizabeth Miller Guthier, WERC's Executive Director, about how WERC has been helping women like Damaris find employment since 1988. WERC has seen an uptick in the requests for services during the Pandemic.
This past year alone, WERC fielded more than 400 calls and provided information regarding WERC services, training and community resources for many women in need. WERC's students were provided free career readiness training, online computer training and job search guidance. Many WERC students have secured new jobs including roles as Intake Specialist, Billing Clerk, Customer Service Representatives, Sterile Processing Technician, HR Generalist, Lab Coordinator, Medical Clerk, Community Care Coordinator, Administrative Assistants, and more. Through the Women's Fund of the Capital Region, a program of WERC, more than $40,000 in college scholarships and emergency funds has been awarded to women returning to college to complete their degrees.
Read the entire article on the Times Union website:
'I wanted to work': Challenges to reentering the workforce (timesunion.com)
There is still time to support to the WERC or The Women's Fund to help women like Damaris in 2022.
http://weblink.donorperfect.com/GivetoWERCorWF