Help Women Like Damaris Find Employment. Read Her Story & Donate Today!
Nov 29, 2022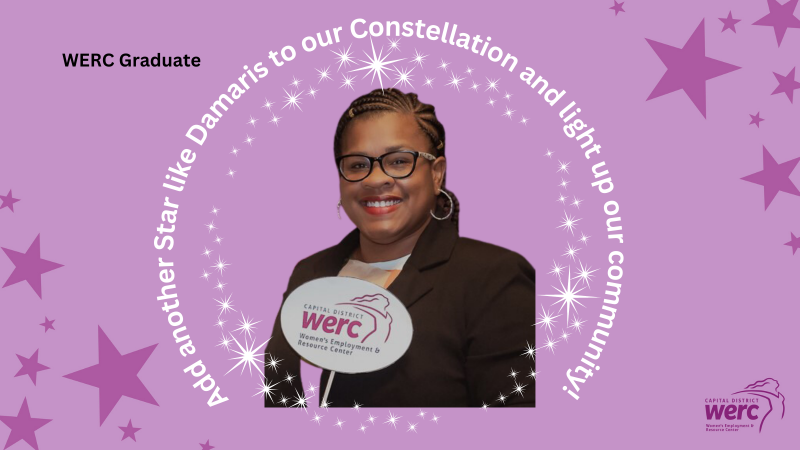 Damaris is a mother of two who became unemployed after the birth of her first child. She had worked steadily for over 16 years prior. After moving back to the Capital Region, Damaris was determined to get back into the workforce. She networked and made connections in the community and learned about the Capital District Women's Employment and Resource Center (WERC).
After she qualified for the WERC program, she participated in and successfully completed WERC's Customer Service/Clerical Computer Training Program. There she met a diverse group of women. She was the youngest person in the class but she learned a lot from the more seasoned women in the program. It affected her very positively.
"Being a student and now an alumnus of the Women's Employment & Resource Center (WERC) has been an enlightening experience. When I joined WERC, I was in a transition period of being newly unemployed, actively seeking employment and pregnant at the beginning of a pandemic. Through the program, I was able to take time to define what my next career step would be and define the imperatives for my life. The student services that WERC provided, such as computer training, a one-stop hub for various job boards, employer contacts, as well as community resources, were extremely helpful to me during my transition," said Damaris in her speech during WERC's Annual Constellation Building Event in October.
After she graduated from the program, she continued her job search, attending career workshops through WERC and checking in with Marj who always and continues to support her in navigating what's next for her and her career goals. When she by was hired Microknowledge, Inc. as Concierge Technical Support in response to the data management of Covid-19 health records in Colorado and New York State, she was thrilled. She was able to land a position that fit the wants and needs for work-life integration and at a salary that was within her range. As a bonus, she had an amazing team of cohorts and managers that made her return to the workforce welcoming.
As that project was ending, she was seeking new employment. She reached out to Marj Adams, WERC's Employment & Training Coordinator, and she immediately started sending Damaris job listings and job fair dates, including a job fair at SUNY, which she could not attend. She called the number on the posting and was able to speak with the contact in Human Resources about the position of Program Management Analyst. She asked if she could send her resume and cover letter and the Human Resources person said "yes"! Damaris sent Marj her cover letter that day and in less than 24 hours she provided valuable feedback and Damaris submitted her application. When she received her offer, she contacted Marj to discuss her package and advice on negotiating her salary, and success followed! She is proudly now the Program Management Analyst at the SUNY Research Foundation.
As a WERC Graduate, she is participating in WERC's new mentoring program and volunteer opportunities at WERC that provide the opportunity to continue to be a part of the WERC constellation. "I learned from my fellow sisters. Those who are entrepreneurs, educators, engineers, administrators, healthcare workers, and more! They mentored me and some of them say I mentored them. That Vibe exchange uplifting each other wanting to see each other win is the magic that happens to be a part of the WERC Village."
Damaris has a Master's of Business Administration combined with a Bachelor's of Science, Computer Information Systems degree and has worked as an Administrative Assistant and Marketing and Business Development Manager. These previous jobs honed her skills in Strategic Planning and Brand Management. By attending WERC's program, she was able to reassess her skills and gain confidence. She will continue to receive support from WERC whenever she needs it. This is why WERC stays in touch with Students and Graduates – to provide a lifetime of services and support, as needed.
Make it possible for other women like Damaris to receive the services and support in 2023. Please remember us in your year-end giving. Donate today: