WERC Receives Generous Donations from 100 Women Who Care Albany, NY
Apr 6, 2023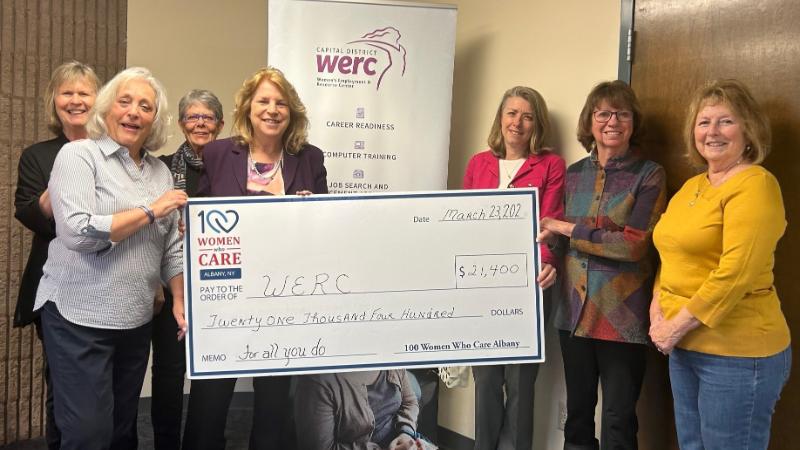 The Capital District Women's Employment & Resource Center was recently chosen to be the recipient of a generous donation of $21,400 from 100 Women Who Care Albany, NY. Jeri Bosman, Sandra Alinger, Peggy Donovan, Laurie Munro, Sarah Halliday and Kathy DeBonis visited WERC's Troy office on Thursday, March 23rd for this amazing check presentation. This donation will be used to help raise awareness about WERC's programs and reach more women in the Capital Region who qualify for WERC's services.
100 Women Who Care Albany, NY is a group of women who are committed to making a difference in their community. They come together four times a year to donate $100 each to a local charity or nonprofit organization. The concept is simple: each member writes the name of a charity on a piece of paper, and three are drawn at random. The members then vote on which charity to donate to, and the chosen organization receives a collective donation.
The group was founded in 2014 with the goal of bringing women together to make a significant impact in their community. Since then, they have donated over $500,000 to various organizations in the Albany area, including those that support education, health care, and social services. The group is open to all women who want to make a difference, regardless of their age, profession, or background.
The impact of 100 Women Who Care Albany, NY goes beyond the financial donations they make. By coming together and learning about the different organizations in their community, members become more informed and engaged citizens. They also serve as role models for other women, demonstrating the power of collective giving and the importance of philanthropy in making a positive change in society.
Their generosity and support will have a significant impact on the WERC's work in this coming year, helping WERC continue its mission of "advancing women's success in the workplace by building their economic and personal independence".
For more information about 100 Women Who Care Albany, NY, visit their website:
View Sarah Halliday's wonderful nomination video – thanks you, Sarah!