WERC's 30th Anniversary Awards Celebration
Oct 2, 2018
Hilton Garden Inn Troy
235 Hoosick St, Troy, NY 12180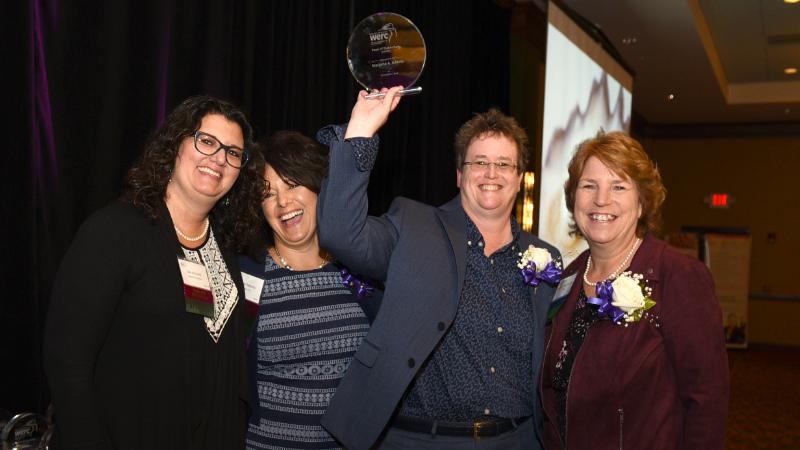 Thank you to all our amazing sponsors. You helped make these 30 years possible!
This year marked the 30th Pearl Anniversary of WERC, formerly known as the Albany Displaced Homemaker Center. The symbol for a 30th Anniversary is a pearl which signifies transformation and potential. It begins as a grain of sand and is cultivated into something of great worth and beauty. A Pearl also symbolizes wisdom acquired through experience as well as generosity, integrity, and loyalty.
This year's 30th Anniversary Awards Celebration, was on October 2, 2018 at the Hilton Garden Inn Troy. WERC recognized 30 Pearls of WERC Awardees along with two Pearls of Distinction for their contributions that have ensured WERC's ongoing success.
Our Honorees
WERC's "Pearls of Distinction"
Marjorie Adams, WERC's Employment & Training Coordinator and KeyBank.
WERC's "Pearls of Wisdom & Empowerment"
Senator Neil D. Breslin, 44th Senate District; Jane N. Golub, the Golub Foundation; Denise Horan, Integrated Management & Sales Consulting; Kathy Lanni, SEFCU; Willie Miranda, Miranda Real Estate Group, Inc.; Lauren Payne, Spiral Design; Kathleen Pingelski, MicroKowledge Inc.; Alissa M. Quinn, UBS Financial Services; Ellen Sax, MVP Health Care; and Paula A. Stopera, CAP COM.
WERC's "Pearls of Friendship"
Alliance Worldwide Investigative Group, Inc.; Austin & Co., Inc.; BBL Hospitality; Angela S. Beddoe, HerLife; Paul Conti, College of St. Rose; Andrea Crisafulli, Crisafulli Bros. Plumbing & Heating Contractors, Inc.; CSEA Local 1000; Susan Law Dake, Stewart's Shops; Deily & Glastetter, LLC; Joan Heffler, Joan Heffler Photography; Katherine Horan; M&T Bank; Maximus, Inc.; Mirror Lake Inn; Vikki Moran, Capital Region LivingMagazine; Ann Reis, Capital District HR Professionals LTD; Harriet Rifkin, Rifkin & Associates, LLC; Dona Snyder-Reardon, Snyder Printer; TD Bank; and Benita Zahn, News Channel 13 WNYT.
2018 WERC 30th Anniversary Awards Prize Packages
1st Prize
Lakeside Luxury at Mirror Lake Inn Resort & Spa, Lake Placid – 2 Nights with Breakfast & Gift Card for The View Restaurant - $1,100+
2nd Prize
North Country Getaway at Large 3-Bedroom Waterfront Condo, on First Lake near Old Forge, for 2 Nights donated by Anne Garbarino, Billy's Restaurant, Lake George Cruise for 2, EMS Kayak Rentals - $1,000+
3rd Prize
"Date Nights" Package - Jack's Oyster House, Vintage House, 677 Prime, 15 Church, New World Bistro, Swifty's Restaurant & Pub, Theresa Girzone Jewelry, Pearl Ring from Rafi, the Singing Jeweler, 3 Bottles of Wine (red, white, rose') - $900+
4th Prize
Health & Wellness Package - Apple watch with iTunes, John Paul Salon & Spa, The Revolution Spinning, Honest Weight Food Co-op, Massage Gift Certificates Body Professionals & Ashley Uccellini - $850+
5th Prize
"Around the Town" Fun Package – Overnight stay at Hilton Garden Inn Troy, Overnight stay at the Renaissance Hotel Albany, Premiere Limo Ride, Proctors Tickets, Palace Theater Tickets, Albany Empire Tickets, The Pottery Place - $800+