2021 First Impressions Second Chances
Jun 8, 2021
Via Zoom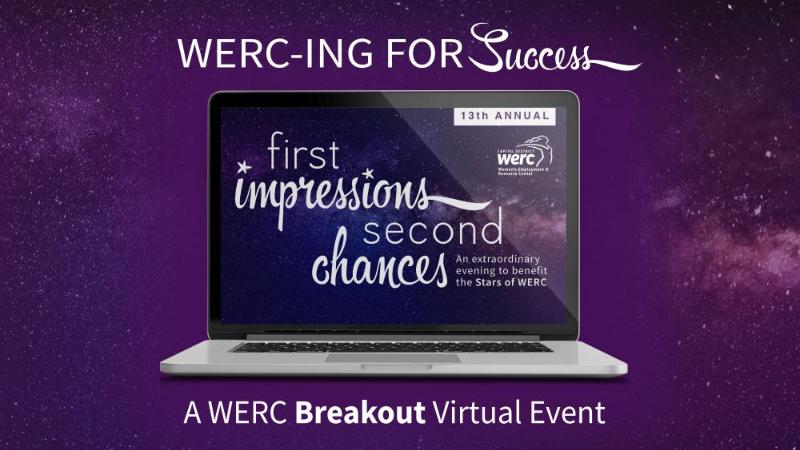 This year marks the 13th Anniversary of WERC's First Impressions Second Chances Networking Event. To celebrate we are hosting a fun, highly interactive virtual event on June 8, 2021 from 5:00pm – 6:00pm via Zoom.
This special success-focused event will feature top area leaders and executive coaches with a wide array of expertise who will moderate breakout rooms during the program. They will advise and coach attendees on how to maximize their success in 2021 and beyond.
Our Mentors Include:
Karen Carpenter Palumbo, President & CEO, Vanderheyden (See Karen's video)
Miriam Dushane, Managing Partner, Alaant Workforce Solutions (See Miriam's video)
Paula Heller, Co – Owner, Averill Park liquor Store / HR Consultant
Kelly Klopfer, Principal, Envisions Architects
Theresa Marangas, Attorney & Life Coach
Rose Miller, President, Pinnacle Human Resources
Terry Nawrot, COO, Insightpath
Margo Rudzinski, Senior VP, Envirospec Engineering/ MJK Strategies (See Margo's video)
Marie Schnitzer, Lead Project Manager, National Grid
This is also our opportunity to update our Constellation on what has been happening this past year and the many women that WERC has assisted during the Pandemic.
Sponsorships for this truly BREAKOUT event are still available! Click here to find out more. Register and purchase your prize tickets today!
Clothing Drive
There will be two opportunities to donate your gently-used professional clothing:
Miranda Real Estate Group - 1482 Rte. 9, Clifton Park, NY 12065
Tuesday, June 8th from 12:00pm -5:00pm
GreatFinds Thrift Boutique - 260 Washington Ave, Albany, NY 12210
Tuesday, June 8th from 12:00pm - 4:00pm
Please call for an appointment: (518) 449-7715.
Spring, Summer and early Fall apparel. No Winter coats please.