WERC's Constellation Building Event: "Building Resilience in Times of Change"
Oct 5, 2021
Hilton Garden Inn Troy
235 Hoosick Street, Troy, NY 12180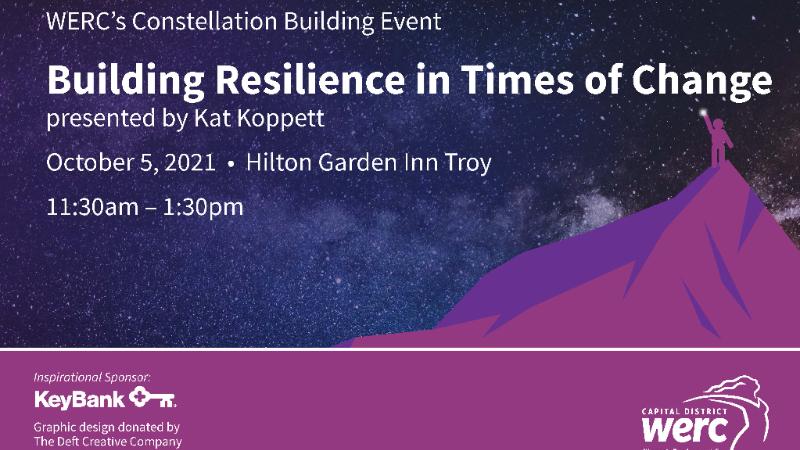 Inspirational Sponsor:

The Capital District Women's Employment & Resource Center (WERC) is excited to bring a timely, creative and interactive program to WERC's constellation and community! Kat Koppett, a 25-year improv veteran, actress, author and founder of Koppett., will guide us through a fun and inspirational program where she will share improv and storytelling techniques to build resilience for individuals and collectively in the workplace.
Resilience is not something to be acquired, but rather skills and mindsets that must be practiced, muscles that must be exercised. Drawing from improvisational theatre and beyond, let us celebrate failure and spontaneity; accept all offers with "Yes, and"; and make others feel good and supported! Let us practice and exercise the muscles that we need to build our own resilience and inspire those around us to do the same.
This program will focus on collective as well as individual resilience, covering topics such as:
Accepting and surfing uncertainty
Managing negative self-talk
Exercising spontaneity and accessing creativity
Being present and focusing on the one next thing
Focusing on your partner and supporting the "scene" you are in.
Please join us as a sponsor and help us bring this fun, inspiring and positive program to our community and provide vital support to our programs and students. The Capital District Women's Employment & Resource Center (WERC) remains essential to the success of women in our community reentering the workforce. Our mission has remained strong over the last year and has grown while unemployment has soared. Now, more than ever, women in our community need our services and support. WERC is in a unique position to offer them solutions for becoming gainfully employed and making a positive impact on the community's economy.
Please save the date and share this with your team, leadership, family, and friends. This program will be a game changer for individuals and teams. Come build our own resilience and inspire those around us to do the same!
COVID-19 Safety Protocols for the Event on October 5th
As we look forward to seeing you at the first in-person WERC event in two years, we want to share with you the protocols we will have in place on the day of the event:
All attendees will be required to show proof of vaccination at the door of the event with either the Excelsior Pass or physical vaccine card, or proof of a negative COVID-19 PCR test within 72 hours of the event.
All attendees will be required to wear masks until they are seated at their assigned table.
We are shortening the networking time and allowing for plenty of space for social distancing.
We are opening the doors to the ballroom at 11:30am so people can immediately go to their seats on arrival, if they choose.
We are working with the Hilton Garden Inn Troy to ensure CDC cleaning procedures and safety protocols are followed and that hand sanitizers are readily available.
We will continue to monitor the CDC's guidelines and share changes to protocols as necessary.
Thank you for your assistance in making this a safe and enjoyable experience for everyone.