WERC Welcomes Three New Board Members
Jan 20, 2021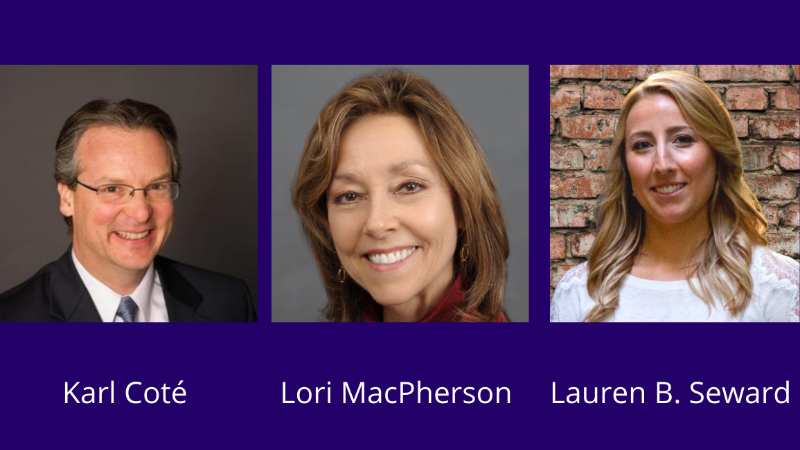 The Capital District Women's Employment & Resource Center (WERC) is pleased to welcome three new members to WERC's Board of Directors: Karl Coté, Lori MacPherson and Lauren B. Seward. Bringing with them a wide range of experience and expertise, these new Board members will have a positive impact on WERC in 2021 and for years to come.
"Our Board of Directors is comprised of a dedicated team of remarkable individuals who are truly committed to advancing women's success in the workplace by building their economic and personal independence in the Capital Region," said Elizabeth Miller Guthier, WERC's Executive Director. "We know the talent, expertise and energy of our newest Board members will complement our current Board's passion, dedication and determined efforts to further our mission."
Karl Coté has been elected to the WERC Board to serve as the Treasurer. His experience includes five years as a practicing CPA, 10 years in corporate finance with St. Peter's Health Partners (SPHP), and 17 years as Chief Development Officer and Executive Director for the Northeast Health Foundation, also part of SPHP. Due to financial challenges from the COVID-19 pandemic, Karl's position, along with many others at SPHP, was eliminated and he is currently seeking a position within our community. Karl looks forward to making worthwhile and meaningful contributions and continuing to enhance WERC's mission.
Lori MacPherson is a proud graduate and Silver Star Alumni awardee of WERC. After retiring from a 30-year career as a professional dancer in New York City, Lori returned to the Capital Region with her young son. She found herself needing to forge a second career. It was the WERC training and coaching that effectively prepared her to transition to the next "stage" of her life where she is currently employed at M&T Bank as a Commercial Market Administrator and Assistant to the Upstate NY Area Executive. Lori is excited to join the WERC Board and looks forward to helping drive the same foundational knowledge, courage and support that she received.
Lauren B. Seward is not new to the WERC constellation, she has been on the WERC Marketing Committee for almost 5 years and was designated the Marketing Committee Chair in 2019. Her passion in life is sharing the brilliance of organizations with the world through innovative marketing strategies. Lauren is currently the Marketing & Projects Manager at Austin & Co., Inc. and has her own marketing company, Brilliance. Lauren looks forward to continuing to promote and share the great services of WERC with our community.
The objectives of WERC's Board of Directors and generous volunteers, in support of WERC's staff, propel the mission of the Capital District Women's Employment & Resource Center (WERC). Each of us helps a woman enter, re-enter, or more meaningfully engage in the workforce. To continue this amazing work, we need as many volunteers as are willing and able to participate.
For more detailed information about the general responsibilities and the time commitments required for volunteers, please contact the Elizabeth Miller Guthier, WERC's Executive Director, at bmiller@cdwerc.org.