Grow Highly-Rewarding Connections with Character Strengths
Oct 6, 2020
Your computer/mobile device via Zoom
Login information will be shared after registration
11:30 AM - 1:30 PM EDT
Ticket Price: $40.00
Register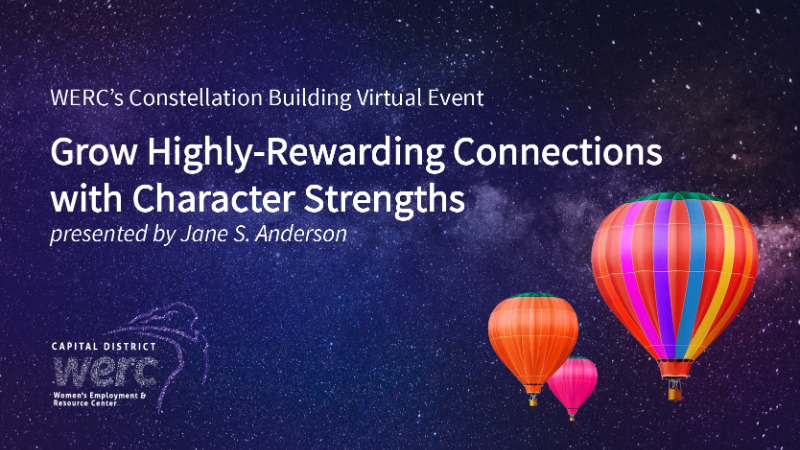 The Capital District Women's Employment & Resource Center (WERC) is excited to bring a truly transformative and interactive virtual program to WERC's constellation and community!
Positive Psychology is the scientific study of strengths that enable people and communities to thrive. We all have a distinct inner constellation of strengths. By knowing and accentuating your character strengths - the most positive assets of who you are - you can ignite your best self and soar higher in every aspect of life.
Nationally recognized author of "30 Days of Character Strengths, A Guided Practice to Ignite Your Best", Jane S. Anderson, will guide us through an inspirational and uplifting experience of self-discovery and continuous positive change with character strengths.
Knowing and applying your character strengths is the key to being your best. This program teaches you how to optimally apply your character strengths in balanced ways to benefit others and ourselves. Harnessing your character strengths helps you thrive and grow meaningful connections with your constellation. Furthermore, research shows that aligning four or more of your signature strengths to work related activities can increase engagement and job satisfaction.
Our program on October 6th will include:
Welcome
Character Strengths presented by Jane S. Anderson

The science of Character Strengths;
A business case for Character Strengths in groups, our community, family, and at work;
Interactive Character Strengths exercises: strength spotting, signature strengths as our core personality, and the overuse/underuse of strengths.

Conclusion and prizes!!
We have put together an amazing group of Prize Packages, valued from $200 to $800 each. They include: a North Country Weekend, a Renaissance Hotel Stay, a one-on-one session with Jane S. Anderson, gift cards from New World Bistro Bar, Rafi the Singing Jeweler, Collar City Wellness Massage, Silver Parrot, Jean Paul Spa & Salon, Milano's, Saati, Open Door Bookstore, Ten Thousand Villages, Black & Blue Steak & Crab, Hoffman Car Wash, Casa Flora and much more!
Join us October 6th! This is your opportunity to discover your unique blend of character strengths and use this insight to grow highly rewarding connections with others. This program is a game changer for individuals and teams!
LIMITED TIME OFFER: Purchase Jane S. Anderson's book, "30 Days of Character Strengths, A Guided Practice to Ignite Your Best" at a discount price of only $9.95 for the print edition through October 2nd. Available on Amazon. A portion of your purchase will go to WERC if you go through smile.amazon.com/ch/14-1818967.
Register here for this virtual event that promises to ignite positive change. We depend on the generosity of our sponsors to continue our work changing lives, empowering More women, and benefiting our community. See sponsor levels listed below:
2020 WERC "Guiding Star" Sponsor - $250 - Help a WERC Graduate Attend!
For more than 30 years, WERC continues to empower and recognize our WERC Graduates. Your support helps a WERC Graduate ignite her best and build her constellation!
One (1) Virtual Event Ticket for you and one (1) for a WERC Graduate
One (1) copy of Jane S. Anderson's book and one (1) for a WERC Graduate
Company name listed on electronic communications leading up to and during the event
2020 WERC "Shining Star" Sponsor - $100
One (1) Virtual Event Ticket
Individual name recognition during the event
Deadline for sponsorships: Thursday, October 1, 2020