WERC Hosts Area Employers at a Breakfast Information Session
May 23, 2019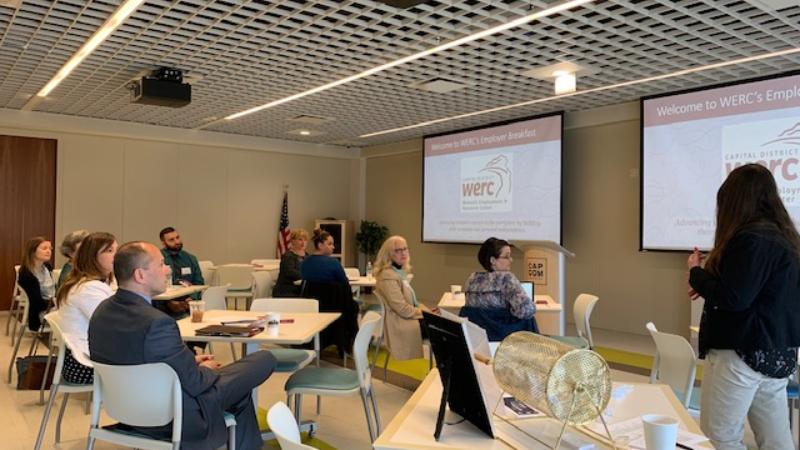 On Thursday, May 16th, the Capital District Women's Employment & Resource Center (WERC) hosted an Employer Outreach Breakfast at the CAP COM Federal Credit Union headquarters at 4 Winners Circle, Albany. The special information session was attended several top Capital Region employers including: CDTA, Spectrum, CDPHP, SEFCU, C.T. Male Associates and AccuStaff.
Human Resources representatives from these companies were very interested in learning more about WERC. Many employers are finding they have a growing need for reliable, capable employees, in light of their companies' plans to expand their existing workforces. WERC Graduates may help to fill that need. Two recent Graduates also attended and shared their stories during the networking portion of the event.
Many thanks go to CAP COM, long-time WERC supporter, for sponsoring this event and to our friends from Alaant for their assistance with this event. "Alaant Workforce Solutions is a proud partner of WERC, an organization whose values and mission make our community a better place" – Amy Stringer, Manager, Operations & Talent. Alaant Workforce Solutions.
WERC's Employer Outreach Committee will hold more events like this to forge new employer partnerships that will help ensure the success of WERC Graduates. WERC currently works with more than 300 employers in the Capital District to help women find employment. Employers interested in becoming an Employer Partner can contact Marjorie Adams, PHR, WERC's Employment & Training Coordinator at madams@cdwerc.org or visit the Employer Partnership page on WERC's website for more information.